So the 'good old days of 2004′ are over but with the recession we'd like to have the next fortune favours the destitute bottom there will be the successors to flickr, delicious, youtube and dare i say it some1 new to challenge the holy grail of the massive codependence of the post Google vs (Facebook copying Twitter begat Friendfeed) grouping. Although with the ascent of twitter to faceborg omnipotence, and the personalityless of useful realtime microblogging functionality friendfeeder, the not a 2.0/not quite 3.0 world needs the next top model thang.
What's the Post-Julia Allison Meta 2.0 Conversation ?
Please hope we get smarter over time as we empower the good personal brands of this world : each of us has our own hand not robot selected peers whether they be the the LadyBugs;) ASayers + Lily Laurens, Lulus with her dreaming of workmates Hesa (The Priest in Kings last night said to the effect - 'dreams are 1/60th prophecies that will happen!') And of course the national underground brigades of tweetdledumndees ala JosExtrahSharp, pulse following @coliwilso + accounting Li(vixeN)enna, the yonderboyd beth, and so on in the non evil camp. Each of us hopefully follow good enough people not just chase followers for followers sake !
In the other camp - depending if u want the make up on or off - the video will be filming.. usually about meta conversations such as a meaningless unpaid filler on a tv show or that ashton twitters or crybabying on rebloggers. (dont read it already : and having negative fans is better than having no fans, even if having real gen fans would be better again) Anyway the wheels must keep turning and Julia Allison's application has been rejected. (for dating, business school, investment, reblogger meeting etc) But she'll be fine… the more negative that happens.. the more meta content there is to remix.
The Z-Grade Will Regenerate Itself : The Almost Arrived.
In terms of preseason drafting of the new meta-Z grade celebrities the latest recruit by The Machine Whose Wheels Keep Turning is the male/female coupling of Adrien and Alexandra. The position was flanked by attaching to Rambin during Fashion week. Julia didnt wear the dress Mary suggested and Checkmate. Ironically, the post Gawker itself GuestofaGuest is fielding comments on Team Julia or Team Rambin ? Of which the latter seems the obvious choice. NonSociety has come true. Like The Knowing u cant mess with predictions. The same GOAG site crowned its new queen and king with a faked spoof post of its behind the scenes of a recessionista, bow tie wearing, once puffy jacket'Face wearing, new name generating, selfdescribed almostarrived.com'd Rambins manbag Adrien Field :
"Elle Magazine just informed me that "aristocratic Spanish ladies used to carry monkeys on their shoulders to make themselves look more bewitching by comparison". You'll be expected to provide your own rhesus suit for black tie galas. Don't embarrass me. Make it a good rhesus monkey suit… At night, you'll be in charge of sitting by my side while I sleep and soothingly whispering "your fame game rank is rising, your fame game rank is rising." If you are so moved, you may also make whale noises. But mostly, stick to the fame game thing."
So If the answer is there is no centralised answer and that a million little 140 character mini-me's are goin2 populate the facebook connecting universe of mobile compliant androids, whispering to the children ala Nic Cage/Rose Byrne's new dud The Knowing "your fame game rank is rising, your fame game rank is rising" -  then the me me memes will keep rising the tides. That is where HipsterRunOff come in;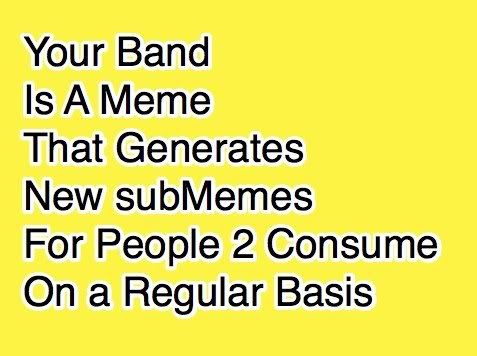 Hipster Run Off - One of the real tumblrs : "… Thkfully in such tweetful times hipsterrunoff has advice on your memeification, equating every individual's quest with that of the band :
* A meme is a unit of information.
* A meme is consumed piece of information.
* Memes are exchanged from human to human.
* There are ways to tap into a meme economy in order to make your memes seem 'more important than they really are.'
* Your band can be 'good' or 'bad in a good way', but it must be a followable meme.
The modern band is not just about 'music.' The modern band must successfully win over fans by finding effective methods to generate themselves into a meme-source worth following.
You are more than just your music. You are an aesthetic."
With Polaroid : Without Feathers
Luckily to walk yerself down off the meta ledge, I ingest another fave photogsite : That of Camden's Sanna, the Vagabond is doing a participatory bird without feathers polaroid exhibition down in Winehouse Shoreditch territory. Love it, from her site - "without feathers is a collection of creations surfacing because of my obsession with birds. I used a base of screenprinted images and layered it with various material and polaroids. the words are stamped, stenciled, handwritten and transferred. the polaroids taken from the rogue bird project and the streets of manchester before being altered with added images. the exhibition was held in the cellar of the legendary conceptual sick which does not only house french bicycles but also two girls transforming the non-pigeon-(heh)-holed shop into a home. i took polaroids of a selection of onlookers and below the image of them disguised with a beak is the name of the bird that they would most like to morph into (sometimes poorly spelled and sometimes in a foreign language) do follow the evolution of without feathers below, (at the exhibition disposables were handed out with strict instructions on the backwhich will be developed and exhibited shortly along with the finished video which was shot on the night)"
Sanna : "So ive spent tonight with nico on maximum volume on my headphones making the site for without feathers. you can find pictures from the making of without feathers, the exhibition, the opening night, the sub-projects and a brief pseudo intro. please have a look HERE and let me know what you think."
The Moral of the Story :
There is no moral. If you try hard enough, climb each mountain… step by step day by day.. taking no more than 13 steps… altho the program recommends 12… u can make it. Publish a book like Adrien. Make an album like Alexandra from Helsinki Idol. But there are kewl parodyists al Hipsterrunoff. And artists like the Vagabond Set. So u can do it, just make it happen.
<Bulimic episode ensues. Dont mess too hard on the post-meta. It can send u pomo.>
<Drops the 1999 Hyundai into second gear as he speeds off to get caffeine in Balnarring. Must plot modelling social media promo schedule in moleskine. Yay, real work. Meta only lasts so long. I liked u meta. But I'm goin earnest.>